By
HefC
I was looking through my phone and found one of the fish specials I ran as the catch of the day. This a a Teriyaki Grilled Salmon
I've done a variation of Teriyaki Grilled Salmon. You can do this at home it is simple. You'll need a few items from the store.
Teriyaki sauce
Wasabi powder or paste
Mashed potatoes - make your own or premade will do whatever you like
Fresh asparagus
Pineapple
Red pepper
Red onion
green onion
sesame oil

rice wine vinegar
brown sugar
salt and

white pepper
Fresh or Frozen Salmon - Fresh is always better
Lime
Now that we have our shopping list we can go to the store and next time we'll be ready to cook.
By
Naked Girls Radio
I am so excited because we have so many great new things planned for the Naked Girls Radio Network!! We started filming for
HefC's
new TV show today!!! We also added some awesome new items to the
630LoveNest store.
I have been working on tons of new photos and videos lately. I have so many that I barely know where to begin!
HefC was pretty nervous about starting work on his new show. I told him that he has nothing to worry about. He should relax and be himself. He has a great personality! I started out filming him and talking with him to help ease him up and get him started. Once he stopped thinking so much about it he relaxed a lot and his smile became much more natural and I could tell he was starting to have a good time. I would say that filming for the first time was a success! We got some good camera angles and the lighting was fairly decent for what we have to work with.
I have also been doing some web design work on
MySenzualGarden.com's home page.
I have a little more work to do on it but it is late so I don't want to goof up the code while I am getting sleepy. I will have to find some time to work on it again tomorrow. I said that I was getting up at 6 am tomorrow morning but thats ummm... *checking clock* .... four hours from now. Dang. LOL
I am glad I wrote this blog today. I haven't been in a blog writing mood lately but maybe I'll get into doing it more again soon. There are so many things I want to do on the site! The only problem is finding a way to keep up with all the exciting new ideas that I have! Wish me luck! I can't wait to keep improving the site and making you love it here even more!!! :D
By
Naked Girls Radio
Sparkles are always sure to look hot and get you noticed! Win this pink sparkle lettter visor and let everyone know what a tease you are!
By
Naked Girls Radio
Cocktail Dice -
The drinking game where the dice look like ice cubes! Make a toast, impose a drink and do some dirty dancing to make a fun and interesting evening.


You must be 21 years or older to claim this prize.
By
HefC
Really quick ten reasons why I'm special
10. My parents love me


9. I cut my own hair, someone else does the neck line


8. I can cook


7. I can do the side splits with both legs


6. I can speak, write, and read spanish


5. I am good at everything I try... mostly sports and games


4. I know how to drive stick


3. I have three amazing kids who love me


2. I love to exercise my mind and body


1. My love loves me no matter what and I love her the same
Take some time today and think about ten things that make you special. It will be your gift to your self.
By
HefC
Garlic just like many other vegetables love to be cooked, grilled, and roasted. Cooking garlic can change it considerably without losing the original flavor. What happens usually is the flavor is ampliphide or like spinal tap would say the flavor goes to eleven when you roast garlic. The way I've roasted garlic before is submerged in olive oil either in a hotel pan covered in an convection oven or in pot on the stove with olive oil over a low flame. Another way you can roast garlic is whole and unpeeled. I've tried this at a little restaurant in New Mexico when I went to visit my sister for her graduation fromSt. John's College; yes I am related to a Johnnie. FYI, they had the best t-shirts in their book store. It was served with top cut off of the whole bulb of garlic that had been slow roasted.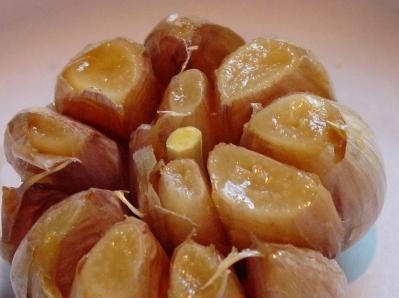 But let's talk about roasting it in oil on the stove. First off it is easy to keep an eye on it and you won't forget about it like you might in the oven. I recommend buying peeled garlic it will make your project go faster, you can get whole garlic and peel it yourself too. Put as many garlic cloves as you want into your pot then pour in your olive oil to cover. Then start them off over a low flame, stir occasionally. Eventually your oil will start to simmer, this is what you want, wait for them to turn "GBD" golden brown delicious and then turn off the flame when your garlic has reached your desired doneness. The longer you roast the garlic the darker it will be each level of doneness adds another layer of flavor. Then you strain the garlic and save the oil because you have infused the flavor of the garlic into your oil. You may also leave the garlic and oil together and using an imersion blender create roasted garlic puree.
This love affair with flavor will continue, look for the next flavorful topic and more about garlic we've barely scratched the surface.
By
Naked Girls Radio
Mini Bud Light key chain beer bottle opener. Blue & Shiny! Never lose your bottle opener again!
By
Naked Girls Radio
Big Plan by the Mike Michalak Band is full of great songs you know and love from Naked Girls Radio like Turtleneck and Wall!
By
Naked Girls Radio
Mike Michalak Band - Psychedelic Elephant CD- includes songs you know and love from Naked Girls Radio like: Just a Dog, Running to Indiana, and Cut The Chain.
There are a total of nine tracks on this CD. I love The Mike Michalak Band!! I hope you do too!
Just A Dog
Sunshine
Running to Indiana
American Soldier
Comes from a Feeling
Cut the Chain
Island Store
Seven Reasons
That's Love