By
HefC
Garlic just like many other vegetables love to be cooked, grilled, and roasted. Cooking garlic can change it considerably without losing the original flavor. What happens usually is the flavor is ampliphide or like spinal tap would say the flavor goes to eleven when you roast garlic. The way I've roasted garlic before is submerged in olive oil either in a hotel pan covered in an convection oven or in pot on the stove with olive oil over a low flame. Another way you can roast garlic is whole and unpeeled. I've tried this at a little restaurant in New Mexico when I went to visit my sister for her graduation fromSt. John's College; yes I am related to a Johnnie. FYI, they had the best t-shirts in their book store. It was served with top cut off of the whole bulb of garlic that had been slow roasted.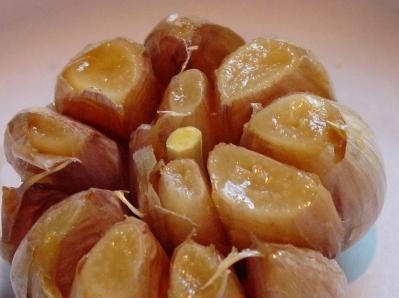 But let's talk about roasting it in oil on the stove. First off it is easy to keep an eye on it and you won't forget about it like you might in the oven. I recommend buying peeled garlic it will make your project go faster, you can get whole garlic and peel it yourself too. Put as many garlic cloves as you want into your pot then pour in your olive oil to cover. Then start them off over a low flame, stir occasionally. Eventually your oil will start to simmer, this is what you want, wait for them to turn "GBD" golden brown delicious and then turn off the flame when your garlic has reached your desired doneness. The longer you roast the garlic the darker it will be each level of doneness adds another layer of flavor. Then you strain the garlic and save the oil because you have infused the flavor of the garlic into your oil. You may also leave the garlic and oil together and using an imersion blender create roasted garlic puree.
This love affair with flavor will continue, look for the next flavorful topic and more about garlic we've barely scratched the surface.